TomcoPDR
| | |
| --- | --- |
| | quote: |
Originally posted by C_Dave45
Ah good, that makes it clearer.

Okay a few things. Of course, that 3D concept shows a steam shower that would be quite a bit more than the "starting at $8,000" type of custom steam shower.
Plus those added "wish lists" of yours will add costs. So here are the key features of added costs:

1. Having an open corner steam shower (2-wall) vs a 3-walled shower will add costs because your 10mm frameless glass is a huge expense.
That glass would be roughly $2500 or more. Vs about $1200 for just a straight, 2-panel, 60" glass door.

2. A contoured bench like that would be huge dollars. Vs just a plain, flat, tiled bench. Upgrade costs of ~$1500-2000 vs $400 for a typical bench.

3. Putting heating in the bench: Again high costs required for that. A heating kit alone is $1,000, then, added costs to bring it inside a waterproof enclosure like a steam shower. Many people think they want a heated tile floor/bench, but what happens when hot water hits the tile? It heats it up within about 5 seconds. The temperature of the water, as well as the steam inside the unit, keeps all surfaces not only "warm" but HOT! Putting electric heating in there is completely redundant.

4. That rendering looks like it shows some sort of glass mosaic tile, along with porcelain tile. Keep in mind, the price of tile varies incredibly. Mosaics are expensive. Glass is expensive. You can pay $4.95/sq ft for a nice porcelain...you can also easily pay $55/sq ft for a nice glass mosaic. An average shower has anywhere between 100-150 sq ft of tile. So you can see a cost difference of $500 vs $5500 just for tile alone.

So, as I said...you can definitely save money by buying a sealed steam shower unit vs a custom steam shower, but the minute you start adding all those "wish list" items, that $8,000 steam shower can easily become a $20,000 steam shower of the same size.

The steam shower I did for InRich would be around $10,000.
(added size, upgraded fixtures and tile)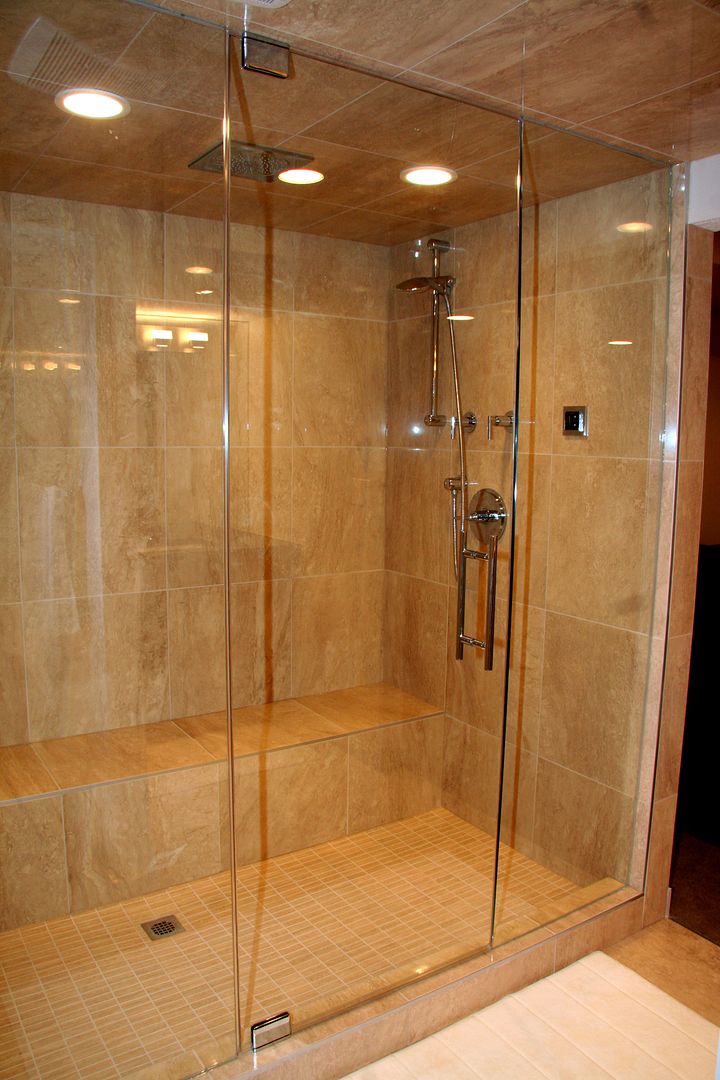 » Click image for larger version


I should just hang at InRich's house...

The alternative to not having steam shower, if it was just a regular shower would be where I was thinking heated lounger would benefit, lather up, then just relax on the heated lounger for 30-45 mins before washing up (that's no steam shower installed)

What about those wedi or (mostly) European companies that make the Styrofoam polystyrene pre-built loungers?

I totally like the look and feel of custom made shower/bath, with it said and done do we go back to exploring the time machine kits? Kinda chessy, but again, are they practical? Or not really.

Maybe you'll get your Red Lobster meal afterall to trade for consultation.
__________________
Updated: January 7, 2017
My list of random For Sale (some free) stuff
Report this post | IP: Logged