Transp0rt3r
| | |
| --- | --- |
| | quote: |
Sounds like the rest of the idiots that can't figure out how traffic circle works
I am in Sage and the worst ones are:

- Nolan, by Sobeys complex
- on the Sage side of Shag, by City market.

I dunno why is it so hard to understand that one should YIELD before entering the damn circle!


Here is more on Sage Hill Crossing plaza development: link Looks like we will be getting Boardwalk burger and Fritou Chicken
Originally posted by nitram
Anyone ever had a run-in with a blue FJ in the evanston area? I've had 2 incidents with him and in different cars.

First was coming up Symons Valley Parkway where as far as i know, he seemed to think that i was stopped too close behind him. He even got out of his car to try to intimidate me. I wouldn't say i left a car length or 2 away from him but definitely not so close that any average driver would have an issue with.

The second time was in a different vehicle and while entering the traffic circle, in which if i was the white car in the below diagram, he would be the yellow car but even further back so in no way i was cutting him off or anything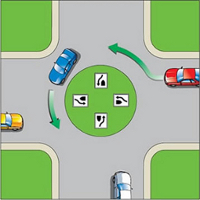 but he first honks at me and then proceeds to follow me back down Symons Valley Parkway. He obviously was following me because the exit i took out of the round-a-bout was the way he came in.

Anyways just wondering if anyone else had experience with this driver.
__________________


2011 Golf wagon TDI, 6spd, H&R sport springs, aFe intake, Malone Tune Stg 1.5, panoramic sunroof
Report this post | IP: Logged